One of the most lucrative businesses you can start at home is teaching online. With a low start-up cost and a skill as your primary investment, you can start teaching and earning money from home. We know this in fact as most of our clients who are solopreneurs are into teaching online courses.
Another good thing about teaching online is you are not only making money out of it but also teaching people to learn what they needed to learn. With it, you are also able to create a community that shares the same interest as you are.
When starting an online teaching gig, courses you can do are not limited to subject courses in schools and colleges. You can start doing an online course for yoga, taxation course, art and drawing, games, and other subjects that you are good at. But most importantly, the course you want to teach others is something you really know like the back of your hand.
So what are the tools and applications you need to start teaching online and earn money from home?
1. Teachable
Teachable is one of the best online platforms you can use for teaching online. All the necessary features to build an online teaching website are already there.
What set Teachable from other building website platforms is Teachable is designed for selling course with its membership integration for students to use and join your online course.
Teachable User Interface
The Teachable User Interface(UI) is very convenient to use. It is easy to understand that even a non-technical person would have no problem using it. As you can in the image below, the admin dashboard menu of Teachable is clean and pretty straightforward.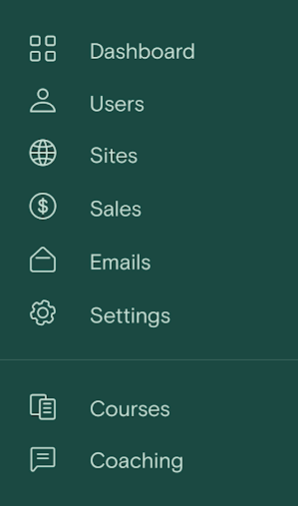 The Teachable Dashboard shows the general summary of your Teachable website. It includes information such as sales, course completion, and current active students on your Teachable website.
The Teachable Users shows the current students and teachers. You can filter each user so you can easily segment the student and non-student.
The Teachable Sites is where you set your Teachable website. This is where you configure your domain, themes, menus, and pages.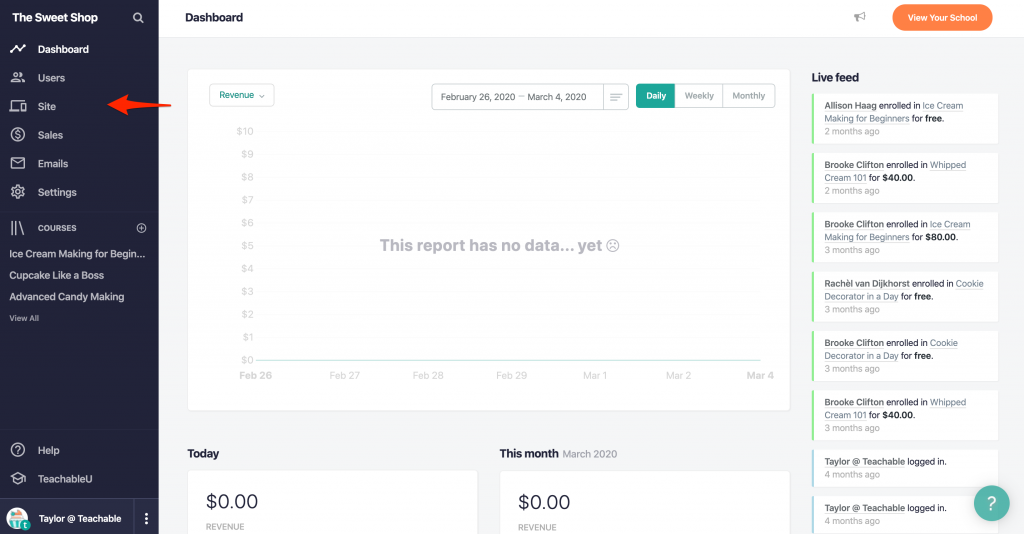 The Teachable Sales display your current sales with your course. It provides all the transaction report that you need.
The Teachable Emails let you send emails to your students. You no longer need a separate email platform to send emails.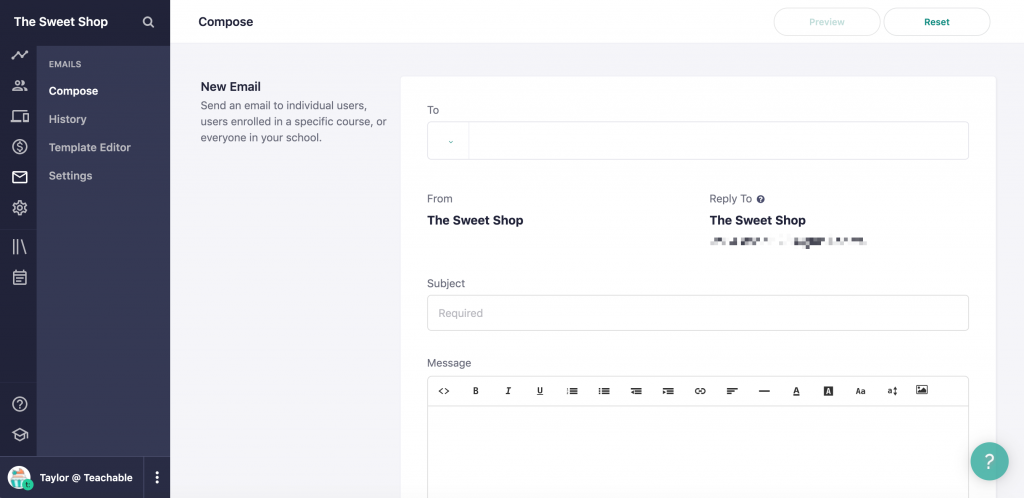 The Teachable Courses menu is where you create your courses. You can add curriculum, quizzes, and even give out certificates if you are in the Teachable Professional plan.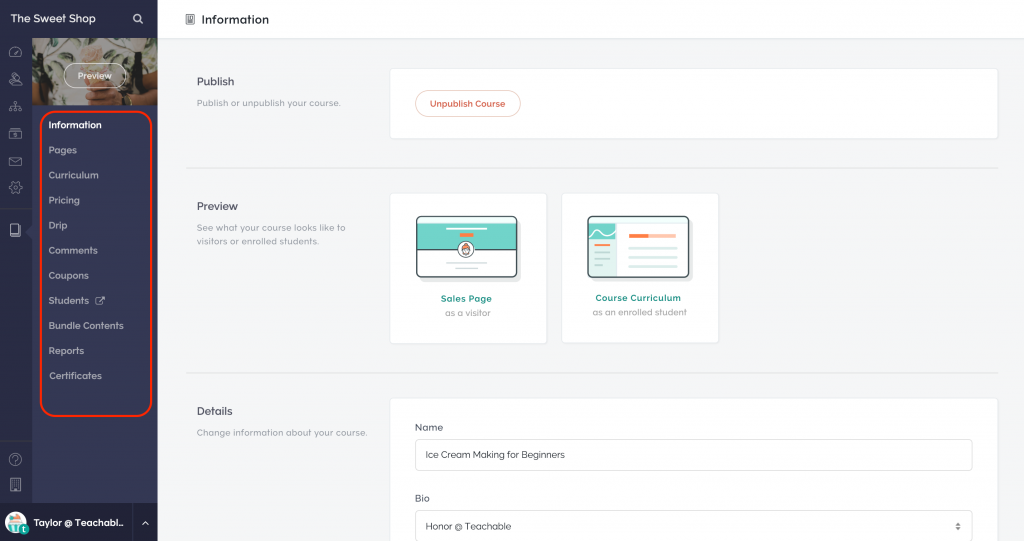 The Teachable Coaching menu is where you can create a course for live coaching. This is one of our favorite features at it gives you the option to teach your student live. The Coaching acts like a pre-booking system where they can purchase the product for a scheduled live session with you.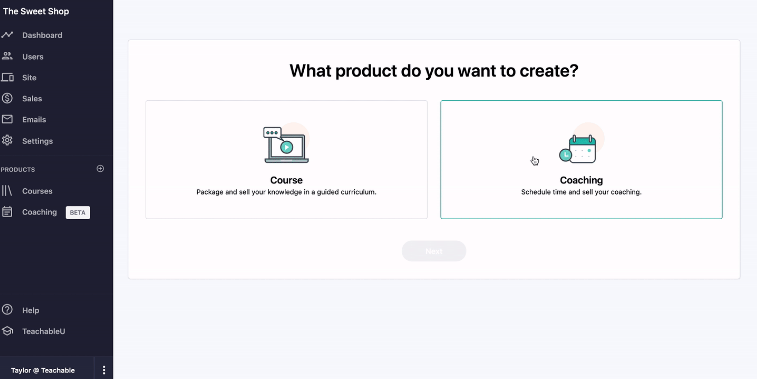 Teachable Customer Support
One of the many things that Teachable is known for is good customer service. The Teachable Pro and Teachable Business plan offer priority support while the Teachable Basic only gets product support.
If you are looking to start creating your online course and lack the technical skills to do so, it would be best to get the Teacher Pro plan as they will assist you in setting up your online course website. The Teachable Basic plan support is pretty limited however as we said, the Teachable User Interface is pretty easy to understand and you own have issues if you have some basic knowledge in page builders.
Teachable Zapier Integration
If you are not familiar with Zapier, it is an integration platform that lets you connect to thousands of applications on the internet. Having Teachable support Zapier integration is a big bonus as it allows you to connect to many popular apps such as ActiveCampaign.
With Teachable Zapier Integration you can take advantage of creating automated email automation when your student purchase one of your course.
Teachable Downloadable File Integration
Teachable supports third-party file hosting applications such as Dropbox, Google Drive, and Microsoft OneDrive. If you need to add downloadable files in your online course, you can either use the direct upload provided by Teachable or one of the 3 file hosting applications.
Teachable Payment Integration
Accepting payment is made easier with a Teachable integrated payment system. Teachable include a custom payment integration with their system aside from PayPal and Stripe. You will not have a problem selling courses with recurring or straight payments.
Teachable also includes the most popular payment platforms Stripe and PayPal.
Teachable Pricing
The Teachable pricing is very affordable compare to building an online course website from scratch. The downside of the Teachable Basic plan however is that it charges a 5% transaction fee which can be removed if you upgrade to the Teachable Pro or Teachable Business plan.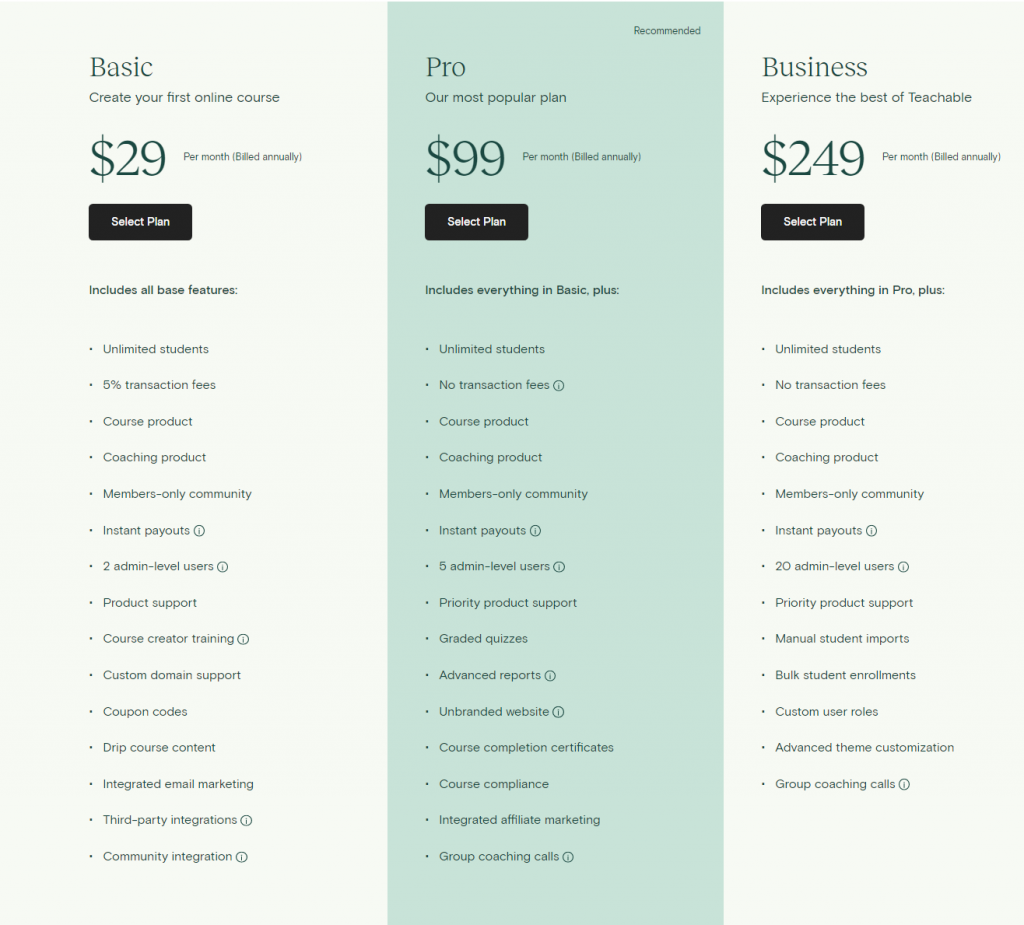 All Teachable Plans offer monthly and annual payment schemes. Getting the Teachable annual plans gives you a huge discount of up to $600 if you went with the Teachable Business plan.
What We Don't Like About Teachable
So far, we like everything about Teachable except the design limitation it offers and the way it does not support third-party video direct integration. Nevertheless, Teachable allows you to embed video using the embed code provided by your video hosting so it's not if a big deal.
Teachable Frequenty Asked Questions
Here are the most common questions about Teachable.
What is Teachable used for?
Teachable is used for selling online courses through live coaching or by purchasing courses through your Teachable website.
Can you make money on teachable?
Absolutely, you can make money with Teachable but it more depends on how you market yourself.
Does Teachable offer Free Courses Plan?
Teachable doesn't directly offer a Free Courses plan but you can get a 14-day free Teachable Pro trial plan.
Can I sell ebooks on Teachable?
You could sell ebooks in Teachable however there are better options and cheaper that you can use for selling digital products.
Does Teachable School Offer Refund?
Yes, Teachable offers a refund within 30 days, after that, you are no longer eligible for a refund.
What is the best Teachable alternative?
There is a lot of Teachable alternatives you can find on the internet but we recommend Thrive Themes. You can learn more about Thrive Themes in our article Thrive Themes – The Best Framework for Solopreneurs Coaches and Service Professionals
Is Teachable Fully Responsive and Mobile-friendly?
Though Teachable design is limited, it is fully responsive and mobile-friendly and will work on most phones and desktops.
Is Teachable a Legit company?
Teachable is a legit company that was founded in 2014. We have some clients who have been using it for years. If you need help setting up your Teachable website, please feel free to contact us.
Who is the founder on Teachable
Ankur Nagpal is the CEO and founder of Teachable, you can learn more about him at his LinkedIn profile.
What is the common issue with Teachable
The common issue with Teachable is the design limitation of their platform. If you need a personal brand taste for your online course website, you may get disappointed. We recommend using Thrive Themes if you want to fully customize your online teaching website.
Do I need a Web hosting to use Teachable?
No, you no longer need a web host to use Teachable. The platform of Teachable is fully hosted by them including files and videos.
Which Teachable Plan should I get?
We recommend getting the Teachable Pro plan if you have the budget as it offers live chat support compare to the Teachable Basic plan which doesn't.
Does Teachable offer a Trial?
Yes, Teachable offers a 14-day trial plan for the Teachable Pro plan only. There is no trial available for the Teachable Basic and Business plan.
2. Screencast-O-Matic
Screencast-o-Matic is a screen recorder application that will help you record your video screen. It is a useful tool, especially if what you are teaching requires you to record your computer video screen.
3. Laptop and Camera
Now that we are done we the application, we are going next with the equipment. To start an online teaching business at home, the next thing you need is a reliable laptop(if you still don't have one) or computer.
A reliable laptop should be powerful enough to do video editing and process it and at the same time have a good camera. We highly recommend getting either ASUS ROG Zephyrus G14 which is a good alternative to MacBook Pro and powered by the latest AMD processor.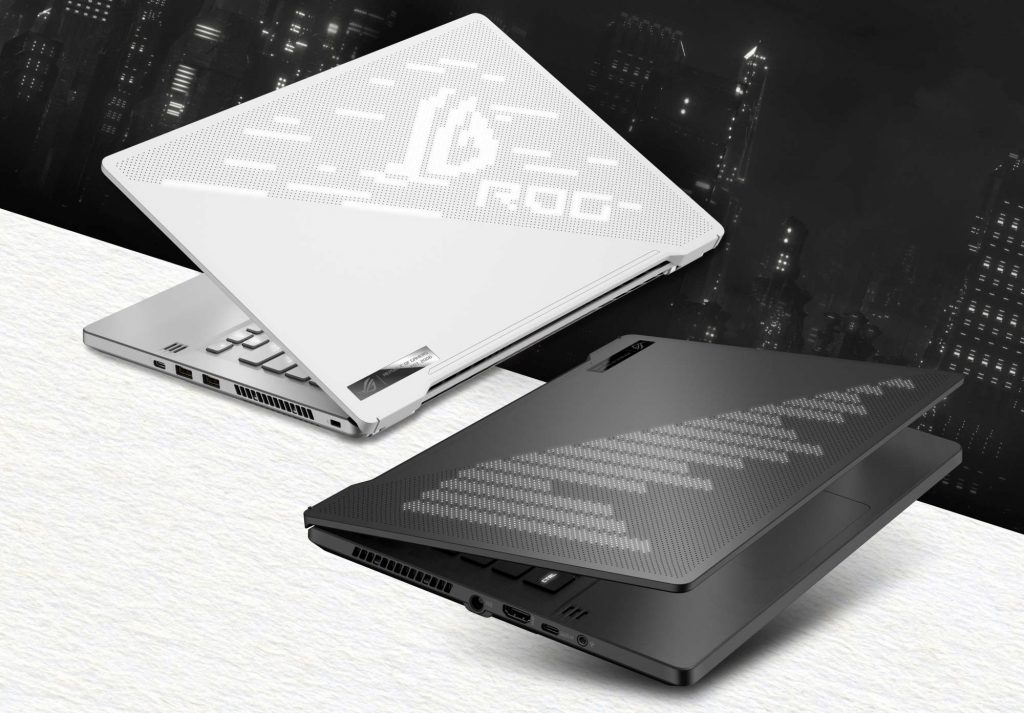 ASUS ROG Zephyrus G14 has enough power for video production that you may need in creating your online course. The ASUS ROG Zephyrus G14 doesn't have a built-in camera as most cameras on laptops aren't that good anyway so we would recommend getting a separate camera. Be sure that if you will be getting the ASUS ROG Zephyrus G14, get the latest model.
If you want to be sure you are getting the latest model of ASUS ROG Zephyrus G14, click the button below which redirects you to our amazon affiliate link.
For the camera, you can either go with your existing mobile phone or get the Logitech C922 web camera. The Logitech C922 web camera is a true full HD web camera that has the features you need to do live coaching.
If you will be offering a video course, we recommend getting a Sony A6400 mirrorless camera which is commonly used by coaches and Vloggers you see on youtube
The hardware equipment is the biggest investment you will make in starting an online teaching business from home. However, you do not necessarily need all of this hardware depending on the course you will teach your student.
Final Thoughts in Teaching Online from Home Business
To be successful in creating an online teaching business from home, the most important thing you need is passion, commitment, and consistency. Without those there, it will be hard for you to succeed and start your online teaching business.
Teachable is an online platform that helps you sell courses but we recommend reading their terms and condition before hosting your course with them. Teachable has a strict policy against fraud courses which could lead to banning your account.
While your files are hosted in Teachable, all rights are still under the creator's intellectual rights.
Summary